Application Software -
General
Written by Chris Smith
Friday, 23 December 2011 00:00
Distributing Windows software never felt so easy—or worked so well—as when downloaded using AppWave from Embarcadero.
What if you could try an application without the expense of purchasing it or even the hassle of downloading and installing it? What if you could easily share that application with your colleagues and users through a URL while inviting them instantly to comment on the app's features, benefits, or shortcomings? What if you could do all this before you or your company committed to anything—from providing a credit card number to raising a salesperson's hopes or even giving your mailing address? Life would be better, wouldn't it?
That day may have just arrived with the introduction of AppWave from Embarcadero Technologies. Embarcadero, a provider of database and application development software, announced the release of the AppWave platform earlier this month, and it is something new and completely unique.
MC Press Online talked with Embarcadero's Philip Rathle, director of Product Marketing, about the technology behind AppWave and learned that it undoubtedly will have many uses in the future. The challenge for Embarcadero may be to package and articulate those uses in ways that are clearly useful to different strata in the software creation and distribution ecosystem.
Essentially, what AppWave allows is the deployment of an application—for now, a Windows application—from a server either on premise (inside the firewall) or in the cloud, downloaded to a client computer where it runs on that computer in a special "browser" comparable to a Java Virtual Machine (JVM). The application comes up and begins to run within seconds of a user's clicking on the appropriate button displayed in the AppWave browser. The application launches while the remainder of it downloads in the background. When finished, the application runs as smartly as if it were already resident on the client machine, but the user only has to have the AppWave Browser running in the background.
Embarcadero has set up the AppWave Web site so that you can try more than 200 free and open-source applications—probably many you never heard of, or at least never tried—through the simple click of a mouse. Granted, you first have to download a software cocktail that includes the AppWave Browser, AppWave Studio, and a software stack that turns your puny little desktop computer into a server from which you can share all your downloaded apps with your colleagues via a URL. After that initial download, however, it's incredibly easy to run any one, or several, of the 200 apps as if they were pre-installed on your system—no downloading, no waiting for laborious installation software to work (or hang), and best of all, no conflicts. The downloaded application is running in its own little browser cocoon and isn't going to conflict with any other software on your system. This is particularly handy if you wish to run two versions of the same application—the old stable version and the latest, but possibly buggy, current version.
So we have the basic concept: instead of running on a server in the cloud SaaS fashion, the application downloads to a Windows server inside the firewall and then is distributed from there to desktops, where it is downloaded again (but only once) and forever operates within the AppWave browser. There is little or no latency, and the app runs just about as quickly as if it were resident on the client computer—largely because it is resident on the client. What is the AppWave browser, and how does it run the software app? Good question. The application does have to be processed in order to be accessible on the server for download and to run in the AppWave browser. For that, the administrator will use AppWave Studio. He runs the application through Studio, sets a number of parameters, and voila, he can now offer the app to any number of users inside, or perhaps even outside, the organization. (We'll get to licensing in a minute.)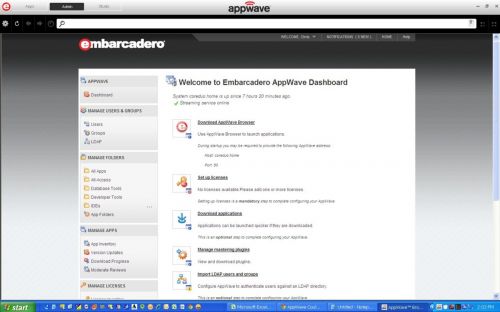 Figure 1: After downloading the AppWave software from the Embarcadero Web site, the administrator is presented with a number of options for redistributing applications to users' client machines.
There are elements to AppWave similar to an internal corporate "app store," since the user gets to pick and choose from among a selection of applications for which she has been authorized and that have been selected as appropriate for her particular job. Someone in the finance department undoubtedly would have different apps available to him than a person in the presentations, or graphics, department.
What are these applications, and where do they come from, you may ask? I don't need a fancy delivery system for a few open-source or free software titles, you say. Quite right, you may not, although certain developers have found them useful. AppWave, however, can handle many commercial titles as well as internally built applications. Each user registers before downloading an application and activates a license if necessary. Using AppWave, the IT department knows not only who has what software, but also how much each employee is using any given title, because there are charts and graphs showing detailed usage. Such information can greatly accelerate a compliance audit, and it also allows for re-assigning licenses and helps over-purchasing of licenses. Embarcadero charges corporate customers based on the "broadcast" application title and number of users.
Embarcadero has tweaked a number of commercial titles—about 20 to date—to work smoothly with AppWave Studio, including IBM Rational Requirements Composer Author, Sybase Power Designer, Spotlight on Sybase ASE, Adobe Acrobat X Pro, ERwin from CA, various Red Gate titles, Spotlight on DB2, Toad for DB2, Toad for Oracle, and Oxygen XML Author, among others. Microsoft Office is in beta and will be ready in the coming months.
I found the AppWave technology engaging because it worked as promised, and the apps didn't bog down when I put them to use. Plus, it was fun trying so many different free and open-source titles without having to work at downloading and installing them. Normally, I use Notepad in Windows Explorer and was delighted to try Notepad++ from the AppWave site. Notepad++ has far more features than plain Notepad, some of which I had been longing for, so I'm keeping that one (try recording macros in regular Notepad).
Certainly, these are early days for AppWave, but I can see the platform expanding in oil-spot fashion to many more commercial uses and even additional operating systems in the future. The first after Windows undoubtedly will be OS X for the Mac. And, according to Rathle, a consumer e-commerce site is on the drawing boards, though the corporate market is the company's focus for now.
If you would like to try it, you can download the free AppWave software from the Embarcadero site and begin your AppWave journey.
Tip: After downloading, select Administrator rather than single user in order to get all the software's bells and whistles, including access to AppWave Studio.
Last Updated on Tuesday, 03 January 2012 11:07